[ad_1]

Q: You talk about journalists holding politicians to account. But just this week you refused six times to answer a question from a journalist about whether you think Britain will be worse off if we leave the EU. Can you answer that now?
Corbyn says he realises this has become a game.
He says he said he wanted Britain to be as well as possible.
If he were negotiating, he would prioritise the trade relationship with the EU, he says.
He says the Tory approach would make people worse off. If Labour were negotiating Brexit, the UK would be as well off, or better off, he says.
Here is the clip the questioner referred to.
Updated

Q: If tech companies have to fund BBC journalist, wouldn't that give them influence over the BBC?
Corbyn says he does not accept that.
The next questioner says, as an immigrant, she thinks that for the Daily Mail to be saying anything about morality is ridiculous.
Q: Do you have any plans to make journalists more accountable?
Corbyn says the need for accountability provoked Leveson 1. And that is why Labour favours the Leveson 2 inquiry going ahead.
Q: [From the Daily Mail] A cynic might say you want to dismantle papers because they have exposed antisemitism in Labour and your role in that wreath-laying ceremony.
Corbyn says he wants a strong and vibrant democracy, and he wants journalists to support that.
This is not about retribution, he says.
He says he has spent his life fighting racism and antisemitism. That is what Labour stands for. He wants to live in a multi-racial and diverse country. "Thank you for your question," he adds at the end.
Maxine Peake is now inviting questions from the audience.
Q: What are Labour's plans for tackling monopolies in the media?
Corbyn says most national titles are owned by few companies. And many local papers are owned by big firms with no local connection, he says.
He says he reads local papers all over the country. But increasingly now they have content provided from far away. Sometimes he reads papers where they seem to have muddled up the content, and are running stories relating to areas far away.
He says he wants much greater diversity of ownership and more local content in local papers.
This is from the Times' Jenni Russell.
Corbyn is now talking about digital advertising works. Google keeps offering him adverts for hotels in Somerset, he says. That's because he recently booked a holiday for his family there. He says he finds this a bit "insidious".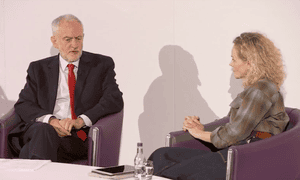 Corbyn's Q&A
Jeremy Corbyn is now holding a Q&A after his Edinburgh speech. The actress Maxine Peake is interviewing him before opening it up to questions from the audience.
Q: After the treatment you have received, do you still have an affinity for journalists?
Yes, says Corbyn. He has "absolute respect" for journalism at its best. He is not put off by some of the treatment he has received.
Q: You get criticised on a daily basis. How do you sleep at night?
Corbyn says if you believe in what you are doing, that helps. Some of the criticism he gets is grotesquely unfair. His media team spend a lot of time dealing with stories that are wrong, he says.
But, he says, politicians should be subject to scrutiny.
What he finds strange, he says, is how the stories that the media focus on do not relate to the issues that ordinary people feel important.
He says, at their best, journalists go out and listen to the voices of people who are not heard.
Q: If you were an investigative journalist, what would you investigate?
Poverty and inequality in this country, he says, particularly the impact on children.
Public confidence Brexit talks will end satisfactorily has plummeted, poll suggests
We've got some new Guardian/ICM polling out this week, and one of the questions covered Brexit. The findings were quite striking.
Public confidence that the Brexit talks will conclude satisfactorily has plummeted in recent months, a Guardian/ICM poll suggests. By a margin of more than three to one now, people think they won't end well. For almost a year we have been asking people if they think the Brexit negotiations will or will not "conclude satisfactorily" by 29 March 2019, the day the UK is due to leave the EU. In October last year the pessimists outnumbered the optimists, but not by a massive margin (45% to 30%). In December, in a poll taken after agreement was reached in phase one of the Brexit talks, the pessimists were only ahead by four points. By April the pessimists were again substantially ahead, with 28% saying the talks would end satisfactorily and 47% saying unsatisfactorily (a 19-point lead). But when ICM polled at the weekend if found only 18% of people saying the talks would end well, and 60% saying they wouldn't.
As ICM's George Pinder points out, the shift in opinion has been particularly marked amongst leave voters and amongst those who backed the Conservatives at the last election. He says:



Whilst, back in April, 'leavers' were evenly split on whether the negotiations would be successful (36% yes, 36% no), these figures now stand at 23% and 54%, respectively. The story is much the same for those who intend to vote Conservative at the next general election, with an almost perfect flipping of the results. 44% now think that the talks will not be resolved satisfactorily (up 12 percentage points from 32% in April) and around a third (32%) think that they will (down 13 percentage points from 45%).
Superficially these results look quite grim for the government. But given that ministers have been quite deliberately talking up the risk of a no deal Brexit – Jeremy Hunt, the new foreign secretary, has been speaking of little else this summer, and today's release of 24 "technical notices" puts the story back in the headlines – it is perhaps not surprising that voters are increasingly convinced that a no deal Brexit will happen.
This week's Guardian/ICM polling also included results suggesting that replacing Theresa May with Boris Johnson, or other putative leadership candidates, would not boost the Conservative party's chances of winning the next election, as well as voting intention figures showing the Tories and Labour neck and neck. We published those results yesterday.
The full tables will go up on the ICM website later today. I will post a link to them here later as an update.
ICM Unlimited interviewed a representative online sample of 2,021 adults aged 18 or over, between 17 and 19 August 2018. Interviews were conducted across the country and the results have been weighted to the profile of all adults. ICM is a member of the British Polling Council and abides by its rules.
Raab says no deal Brexit would bring opportunities as well as challenges
Here are the main points from Dominic Raab's interview on the Today programme.
Raab, the Brexit secretary, said that a no deal Brexit would bring opportunities as well as challenges. He said:



One thing I would just say in relation to the no deal scenario, it's quite right to say that there will be risks and challenges, and that we will need to manage the risks and address the challenges. There will also be opportunities. So let's have a balanced debate and put the unlikely scenario of a no deal Brexit in some sort of context. That's one of the points that we will be doing today.
He admitted that a no deal Brexit would pose risks, but he said it was important to keep them in proportion.



There are risks here. But let's not have the risks blown out of proportion, out of context. What we are going to do today is be honest about the risks, inform those affected … and give some guidance, and I hope with that some reassurance, and also critically some context about the risk.
He said he was still confident that there would be a deal.



I'm still confident a good deal is within our sights. We have got agreement on about 80% of the issues. We have made clear that if negotiations don't achieve the optimum outcome we will continue to be a responsible European neighbour and partner.
He played down suggestions that a no deal Brexit could lead to a shortage of medicines. He said:



With the pharmaceutical suppliers, we have got three months' worth of buffer stock already for over 200 medicines … Public Health England already hold at least three months' supply of vaccines. So we are used to doing this kind of thing.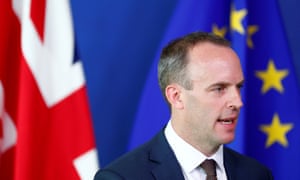 Jeremy Corbyn is delivering the Alternative MacTaggart lecture at the Edinburgh Television Festival. It is a major speech about media policy, and much of the content was briefed overnight. Here is my colleague Jim Waterson's preview.
Corbyn has just started speaking. There is a live feed here.
This blog is mostly focused on Brexit today, and so I will not cover the speech minute by minute. A full text will be available later. But I will cover the Q&A afterwards.


[ad_2]

Source link Google News